DP Guarantee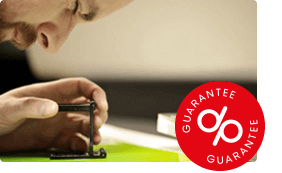 We're only truly happy when you are. We want you to be satisfied, of course but we'd prefer it if you were absolutely thrilled with us.
We take great pride in the work we do. So if you ever receive a job from us and we have made a mistake and your print job isn't up to scratch please get in touch as soon as possible and we'll do everything we can to fix it.
This is how it works:
STEP 1
If you're not completely satisfied with your order please tell us.
STEP 2
If required, a member of our customer service team will contact you within six hours (during office hours) to get more details of the problem.
STEP 3
We'll come back with a solution. We're very confident we can help. The most important thing is that you're happy.
STEP 4
In the unlikely event we can't fix our printing mistake, we'll offer you a full refund.
That's the Digital Printing Guarantee.